LOADRITE C2880 Belt Scales for Fixed Plant
Increase the profitability of your operations and monitor quarry performance, productivity and stockpile inventory with Trimble LOADRITE fixed plant conveyor belt scales.Announcement: Trimble has entered into a definitive agreement to sell LOADRITE to an affiliate of The Jordan Company ("TJC"), Precisional LLC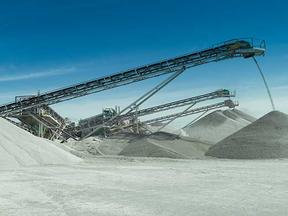 Features and Benefits
Accurate Production Measurement
Accurate to within ±1% margin of error using a single idler (subject to mechanical, installation and calibration conditions).
Multiple Scale Inputs
Up to four conveyor weighing (physical and/or virtual) per integrator.
InsightHQ Dashboards and Reporting
Wide Range of Applications
Trimble belt scales are deployed at thousands of sites around the world - including quarrying, mining, power generation, transportation, agriculture and more.
(Optional) LCI: Real-time Production Dashboard
Real-time plant production data to optimize performance, report production for the quarry manager and track overall equipment effectiveness (OEE) for performance improvement projects.
The integrator is the processing engine that converts signals from the load cells and speed wheel into weighing data.
The speed sensor provides data to calculate belt speed, flow rate and total weight.
Scale assembly measures vertical forces for an accurate weight signal to the integrator.
Meet Our Customers
Learn how customers around the globe are using Trimble technology to be more efficient and profitable.