LOADRITE Force
Now every machine operator can quickly and easily load trucks exactly to their target weight. The LOADRITE™ Force™ helps gauge accurate loading through its no-frills interface. Industry leading weighing accuracy ensures trucks are correctly loaded before they get to the weighbridge. Wheel loader scales cut down on congestion and reduce waiting time increasing your customer's satisfaction.Announcement: Trimble has entered into a definitive agreement to sell LOADRITE to an affiliate of The Jordan Company ("TJC"), Precisional LLC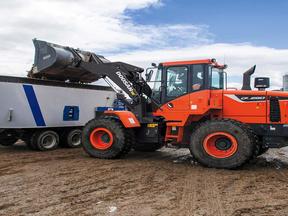 Features and Benefits
Load more trucks
Weighing during the normal lift cycle allows operators to load more vehicles per shift. Correct loading means cycle-times for truck loading are reduced by preventing truck turnarounds at the weighbridge.
Sell more
Sell more product without adding equipment or personnel. Eliminate double handling of material by loading right the first time.
Avoid overload fines
Accurate loading ensures trucks are loaded to the correct value. Reduce haulage costs - Loading to the correct target weight means unnecessary trips caused by under loading are avoided.
Pressure Transducers
Triggers
Indicator
Slope Compensation Kit
Printer
Data Communication
Meet Our Customers
Learn how customers around the globe are using Trimble technology to be more efficient and profitable.