LOADRITE L2150 Loader Scale
The L2150 is a high precision onboard loader scale, it offers accuracy and reliability with basic data functions. By using multiple-point triggering, speed compensation and dual pressure measurement the L2150 offers high-level weighing accuracy regardless of lift speed and loader movement. All you need to know is that trucks will be loaded to the right weight first time.Announcement: Trimble has entered into a definitive agreement to sell LOADRITE to an affiliate of The Jordan Company ("TJC"), Precisional LLC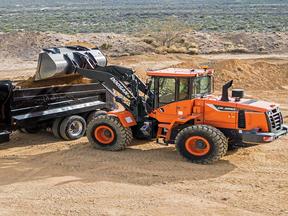 Features and Benefits
Improve Profits
Eliminate the cost of double handling of material by loading right the first time.
Avoid Overload Fines
Accurate weighing ensures trucks are loaded to the correct value.
Track Material Movement
Track loads by material, customer, truck and Job ID using the one-touch scroll key interface.
Reporting Solutions
Send payload data to InsightHQ, a material management portal that shows near real-time productivity, available machines and material location.
Print time-stamped hard copies of payload information in the cab to provide a permanent record of weighing operations as they are performed
Legal for Trade Upgrade Option
Legal for Trade certification saves money and facilitates easy invoicing by effectively transforming the loader into a mobile weighbridge; especially valuable for mobile or remote sites. Other benefits: bypass the scale house for lower-cost operations and faster truck turn around.
Pressure Transducers
Triggers
Indicator
Slope Compensation Kit
Printer
Data Communication
Meet Our Customers
Learn how customers around the globe are using Trimble technology to be more efficient and profitable.