LOADRITE L2180 Loader Scales
Regardless of the application, the challenge for site and fleet managers is the same: achieve maximum value from existing equipment by utilizing it in the most efficient manner. The key to making effective decisions is having the right information available. The LOADRITE L2180 is more than just an onboard scale. It provides an easy way to capture information on your loading process right where it takes place - on the loader.Announcement: Trimble has entered into a definitive agreement to sell LOADRITE to an affiliate of The Jordan Company ("TJC"), Precisional LLC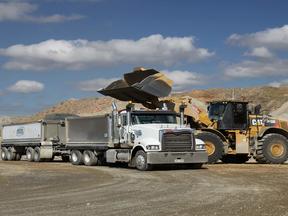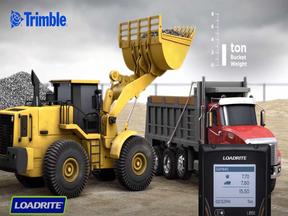 Features and Benefits
Superior weighing technology
Trimble sensors continuously monitor boom position over the entire lift allowing multiple measurement points. Multi-point weighing allows variations in weights calculated to be averaged out or even discarded if outside tolerance levels. These variances can be caused by inexperienced operators or weighing on rough ground.
Simple Interface
The LOADRITE screen display is uncluttered and only relays pertinent information to the operator when required. This enables the operator to concentrate on what they do best without unnecessary distraction: loading trucks.
Active Tip-Off
Helps the loader operator to adjust the last bucket load at any height. This is possible due to the LOADRITE position sensor which allows the scales to compensate for boom position.
World's Most Popular Loader Scale
Since its release in 2009, the L2180 has become the world's most popular on-board weighing system.
(Optional) InsightHQ dashboards
InsightHQ (web-based) and Materials Management System (software) reporting platforms for loading and quarrying operations. Track the stockpile inventory levels and loader tasks (e.g. stockpiling vs. loadout, when using data fields).
'Legal for Trade' Upgrade Option
'Legal for Trade' certification saves money and facilitates easy invoicing by effectively transforming the loader into a mobile weighbridge; especially valuable for mobile or remote sites. It can also enable trucks to bypass the scale house for lower-cost operations and faster truck turn around. Available in: All European Countries, Canada, Australia, New Zealand, and South Africa.
Pressure Transducers
Triggers
Indicator
Slope Compensation Kit
Printer
Data Communication
Meet Our Customers
Learn how customers around the globe are using Trimble technology to be more efficient and profitable.