Trimble Roadworks is the newest product in Trimble's lineup of Paving control products, and is available for both paving and compacting applications. Trimble Roadworks features a large display and an easy-to understand layout for controlling cross slope and material thickness. Configurable views allow you to customize your screen to have the exact information that your operator wants to see while operating the machine.
Roadworks Paving Control Platform for Asphalt Pavers:
Available for both 2D, and 3D applications

 

Easy to navigate interface that allows operators to make adjustments with ease

 

Lay the finished surface with accuracy to 0.01 feet (3 millimeters)

 

Reduce labor costs by controlling the screed with one operator

 

Reduce operator mistakes with the easy-to-use display interface

 

The system automatically guides the screed to lay exactly the right material thickness and slope, allowing you lay complex designs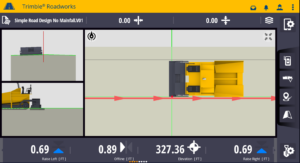 Roadworks Paving Control Platform for Asphalt Compactors:
View pass count, compaction progress, and mat temps on the display. 

 
When equipped with temperature sensors, you will have the flexibility to monitor pass counts plus temperature, or only pass counts. 

 

Achieve optimal compaction for the target temperature range and reduce labor time with real time temperature monitoring.  

 
Roadworks is also compatible with Trimble WorksOS and Trimble WorksManager software. This will allow you to sync your data wirelessly from the office to field.