Trimble has announced the release of Trimble Earthworks Grade Control Platform and Cat GRADE version 2.13, which broadens supported machine configurations and adds additional features for select machines. 
Dozer Updates
Earthworks version 2.13 will include system updates for Active Body IMU dozer configurations. The update will allow the IMU's to reinitialize while the operator is working and maintain accurate system guidance. If no blade raise /lower is detected over a long period of time during operation, operators will be prompted to raise and lower the blade to reinitialize IMUs. If the operator regularly raises and lowers the blade as a part of their workflow, they will not see this prompt since the IMU will be able to reinitialize while they are operating.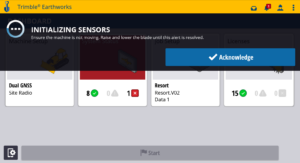 Trimble Earthworks/CAT GRADE Assistant Apps
With version 2.13, you will now be able to scan QR codes within the help material of your Earthworks system which will direct you to the appropriate page within the Assistant app. This will allow easy cross-referencing for operates between the Earthworks/CAT GRADE apps and the instructional content.