Siteworks Cross Section View
Siteworks now has the ability to show a cross section view without the need of a PRO file. Previously, in order for a user to acquire the cross section view on their handhelds, the users were required to create a PRO file in addition to the TTM file. Since Siteworks 1.42, this has been a feature that can be shown on your main map view. This can be helpful to visualize curb lines and other elevation changes on your site. Users do not have to do anything new when exporting designs the system does it for you. All the user has to do is display the cross section view on their main map view in one of the 3 windows.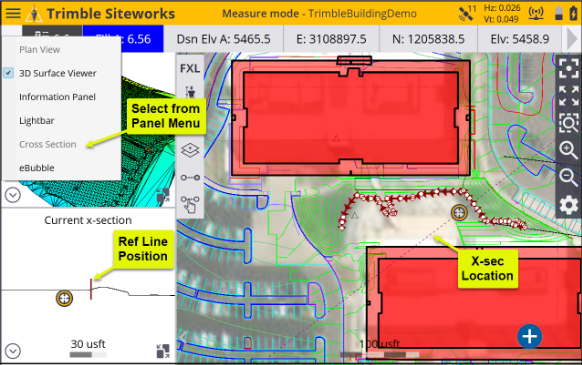 If you are interested in this feature, and your Siteworks is not currently at 1.42 or higher, update your software through the Installation Manager! If your controller is not under warranty and 1.42 is not available for an update please reach out to your Sales Specialist for further information. Finally, if you have questions on how to update the device through installation manager reach out to a Product Specialist for guidance.