Trimble has announced the release of the 1.70 version of Trimble Siteworks. Users of the Active Trimble Protection Plan, as of July 31st, 2023 or later, may receive the update at no cost. You can perform this update using the Trimble Installation Manager (TIM) app. If you are unsure of your plan's expiration date, or would like to renew your Trimble Protection Plan, please contact your SITECH Northland Sales Representative for assistance.
This latest release introduces the following features and functions to the Siteworks platform:
Integrated Survey of GNSS and Total Station Measurements
Siteworks now enables users to simultaneously connect to both a GNSS Rover device and a total station. You can take measurements from only one device at a time, but by clicking a single button on the Siteworks status bar, you can instantly switch between using your GNSS Rover and Total Station for measurements. This new functionality will also allow you to use your GNSS device to Measure a new control point during your UTS Setup and then immediately take the UTS measurement to station the total instrument (project must already have a site calibration completed in order to use this feature).

You can connect your devices using the "Integrated Survey" option. The standard GNSS and UTS setup once you connect. When setting the height of your GNSS receiver, there will be a new checkbox for "Use target height plus offset to receiver". This will account for your UTS target height when setting the Height of your GNSS receiver.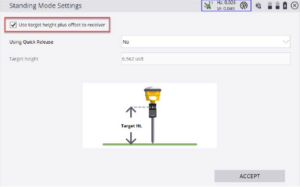 Georeference Background Images in Siteworks
With Siteworks version 1.70, you will now be able to import and georeferenced a background image including PDF's from within Siteworks. Through Siteworks, you are able to import a background image or pdf to your project. Follow a simple workflow to correctly georeference the background image to your site.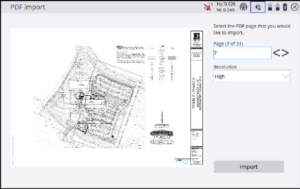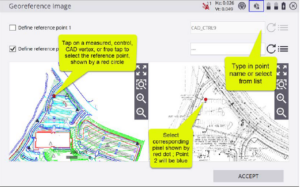 New InfoBar/Panel Item for Stake Distance
In the Info Bar and Panel Options a new "Stake Distance" item was added. This new Stake Distance will give a straight line distance from the user's current location to the stake point. Shown below, is the updated orientation: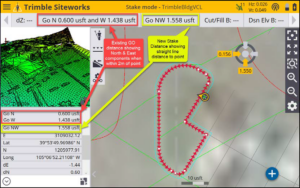 General Improvements
The Coverage grid map setting is defaulted to 'OFF'. This setting will be remembered at the Project level.
Background Image transparency display values are reversed. Such that, 100% transparency is fully transparent or "invisible". Whereas, 0% is fully opaque.