Trimble R750
Trimble has introduced their R750 Base Station that gives its users improved satellite tracking and remote operation, which goes hand-in-hand with better performance and more accurate positioning in the field. Featuring a built-in LTE modem, the R750 can provide corrections via the internet, making it easier to extend the range of a base station anywhere with cellular coverage. The built-in modem also provides remote access and management, delivery of email alerts and notifications, and data transfer capabilities between the field and the office. To do the Internet based corrections you will need to have an active data plan and a WorksManager account with licenses. If you have questions on this please reach out to your local SITECH dealer.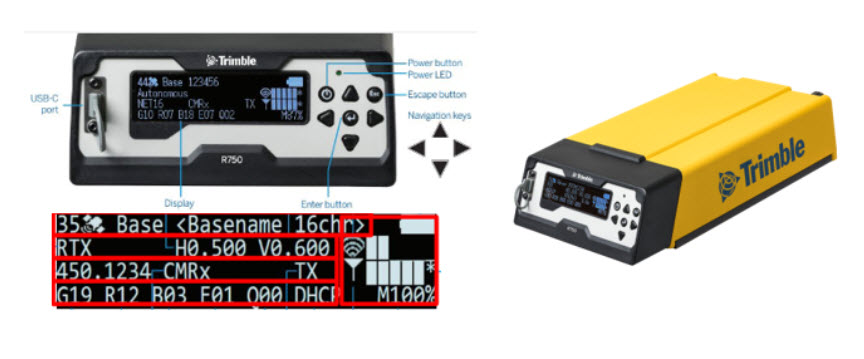 Key Features 
 Front Panel Display –  
Advanced four-line reversible front panel display with Power button, Enter, Escape, and navigation arrow keys for receiver configuration and status monitoring.

Provides information regarding:

 
SVs used, Mode and Base

 

Position Type and Quality

 

Correction information

 

Constellations

 

RHS – Bat, WiFi, LTE, ETH, and Memory

 
Intuitive navigation using multi-directional arrow buttons

 

Connectivity –

Integrated 2.4/5 GHz Wi-Fi, Bluetooth®, and worldwide 4G LTE modules.

 

Flexibility –

Log, transmit, and receive data using a variety of formats and protocols.

 

Durability –

IP67 water and dust protection, designed to survive a 1.1 m (3.6 ft) pole drop onto a hard surface.

 

USB-C port –

USB data transfer and communications port with support for USB-C PD (Power Delivery) charging in the office, on site, or on the go.

 

QR code –

Convenient connection to the built-in Wi-Fi access point via your smartphone or tablet.

 
Compatibility –
Siteworks –

Compatible with Siteworks

Version 1.42

and later

 

SCS900 –

Not compatible

with SCS900

 

GCS900/Earthworks –

Compatible with both GCS and Earthworks 

 
For any questions regarding compatibility, features and in-field application, please reach out to your local SITECH dealer for assistance.