Trimble has released the newest module for Siteworks systems that will allow users to operate their existing rover and Siteworks tablet in a Machine Guidance application. This module is currently only supported on excavators. It also requires Siteworks version 1.60 or newer, and SPS986 or R780 Rover head with Tilt Compensation. Please contact your SITECH Northland sales representative if you have any questions regarding the compatibility of your current Siteworks systems.
Features
Siteworks with machine guidance allows you to do your site layout, in-field design, and machine guidance with a single tool. Users will be able to transition seamlessly from using their surveying grade rod to the machine using their same SPS986 or R780 rover and site tablet. Your rover head will attach to a bracket at the top of the excavator's stick. Then, the machine's operator will receive live readings from the seat of the cab in the familiar Siteworks display interface. Note: Siteworks does not support Machine automatics, this is an indicate-only system.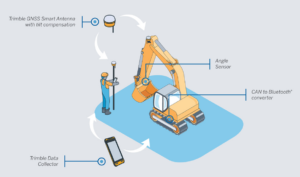 While using the machine guidance feature in Siteworks, the operator will be able to get a live read of their cuts/fills, shoot points, and even perform site survey layout directly from the seat or their machine. Also to note, the operator will have full access to Siteworks survey tools. To make the transition from your grade rod to your machine, all you will need to do is change your "Measure Mode" to the new "Machine" option in Siteworks. Once you select the Machine option, you will select the machine you are using and be fully ready to use Machine Guidance, eliminating the need to have someone in the trench checking grade while the operator is digging.