LOADRITE C2850 Mobile Machine Belt Scales
Increase the profitability of your mobile operations through performance monitoring, productivity tracking and stockpile inventory with Trimble LOADRITE mobile conveyor belt scales. Designed to ensure accurate weighing for mobile crushers, screeners and stackers include unique features like a rugged printer, direct delivery of reports to your email using cellular modems, weighing with chain idlers and tailor-made reporting. LOADRITE mobile belt scales give plant operators and managers a range of powerful tools to measure the actual production from screens and crushers, track final product stockpiles, analyze plant and machine downtime, and monitor loadout of trucks, port and rail and conveyor belt scales.Announcement: Trimble has entered into a definitive agreement to sell LOADRITE to an affiliate of The Jordan Company ("TJC"), Precisional LLC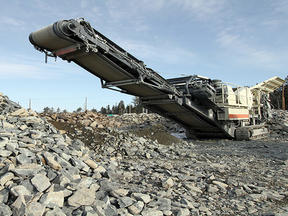 Features and Benefits
With Trimble mobile processing you have the ability to monitor (scale) output from the loader meaning production targets can be effectively tracked in real-time meaning no overruns.
Accurate Production Measurement
LOADRITE belt scales are accurate to within +/- 1% margin of error (when installed and maintained correctly).
Optimized for Mobile Machines
The C2850 and InsightHQ reporting have been customized for the unique requirements of mobile machines to maintain the highest accuracy.
Fast Installation or Retrofit
The C2850 is quick to retrofit, simple to calibrate and easy to maintain.
InsightHQ Dashboards and Reporting
Trimble InsightHQ and Insight support a wide range of dashboards, reports all designed specifically for relevant workflows. Graphs make it easy to quickly identify specific issues.
Wide range of applications
Suitable for mobile crushers, screeners, stackers and more.
Options
How It Works
The integrator is the processing engine that converts signals from the load cells and speed wheel into weighing data. The speed sensor provides data to calculate belt speed, flow rate and total weight. Scale assembly measures vertical forces for an accurate weight signal to the integrator.
Meet Our Customers
Learn how customers around the globe are using Trimble technology to be more efficient and profitable.